The Moga Power Pro Controller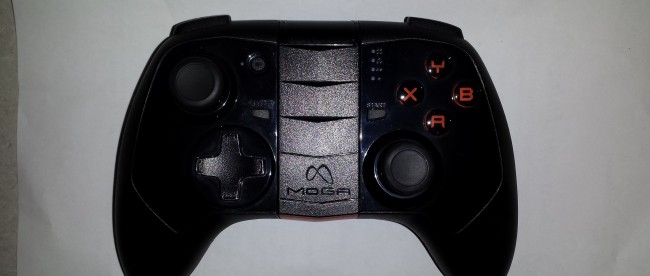 Lets start off with a big thank you. Thank you Randi, my super girlfriend, who got me this for Christmas a year ago. I used it on occasion to play games across my myriad of tablets and phones, both of the Android and Windows variety. I don't own any apple products, so I cant speak on its compatibility or usefulness with those products.
I really wanted a controller for my Samsung Note 3. This is a great gaming phone, a combination of a fast processor a great video chip and a LARGE 5.7 inch screen.   This paired to a good gamepad would make a great portable system. The Moga power pro controller is bluetooth and has 2 different settings, one as a Moga native controller and as a standard HID controller. Android devices have a downloadable app that installs both Moga's store and gamepad software. The MOGA is natively compatible with a lot of major titles including Shadowgun and Asphalt 8. They have worked really hard on getting native support for a lot of Triple A titles natively.  I personally use it for GTA:San Andreas using its alternative HID mode. Here is a walkthrough of the device itself.
The button layout of this gamepad is almost identical to an Xbox 360.  The thumbsticks are physically a little smaller than the Xbox 360, about the size of the ones on the Xbone. They also have a looser feel like the ones on the Xbone too. There is a standard 4 button set on the right side and a thumbpad in addition to the thumbsticks.  Along the top there are 2 top buttons and 2 analog triggers. In between is a micro usb connector for Charging and a full size USB connector that lets you use the 2200mAh battery of the gamepad to power the tablet/ phone.
In the middle of the face is the "Smrt Lock" arm used to hold the Phone in place making this similar to a Nvidia shield in its Form factor.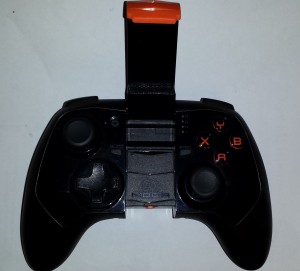 You can read reviews on other pages. Here you get to know what its good for. I use it for playing various android games. I also was able  to setup it in Windows 8.1 as a HID device.  The Dell Venue Pro 8 tablet has built in Bluetooth and setup is a snap. Together this package  becomes a powerful portable arcade  package. I run MAME emulator software and a few other emulators for access to a ton of classic console games.  There is nothing more satisfying than loading up Super Mario Brothers, or Pitfall with just the tablet and this controller.
To summarize, this is a sturdy, well made bluetooth controller that works with Android and Windows. At $79.99 its isn't cheap, but with all the features and support Moga put into it, I don't think its overpriced. If you are looking for a controller that can be used on multiple platforms and work well, take a peek at this gamepad.