Personal life and game room update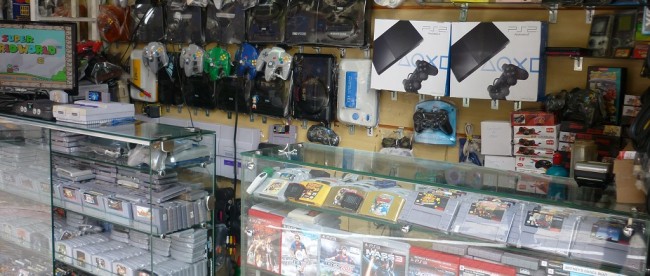 I can't believe its been almost 5 months since I'd last posted anything to my site. I mean there have been Twitter posts on occasion, but no real articles. Like it always happens, life got in the way. I have a ton of really good excuses, I swear. First off in January and Feb I was studying non stop for a SQL exam I needed to take for my job. So my brain was filled with information about administering databases exclusively. Also at the end of January I finally made a decision to move. I had been living in the Same apartment for 10 years and my girlfriend and I had just outgrown it. So we put in our 60 day notice and went a hunting for a house to rent.
Im pretty excited for the new place. Its a cape cod, a type of house I'm not accustomed to. We have a main floor, unfinished basement, split in 2, and finally a finished upstairs thats a bit long and narrow because of the roof. The upstairs also houses my own Bathroom!!! The main useable area on the third floor has been designated a sort of hobby area. 😉 My girl has her books, but the main centerpiece will be a gaming rig of current and retro consoles, PC's, and emulators connected to a Tube tv and an LCD. A lot of the planning has been fleshed out and I'm currently in the process of getting everything needed to set it up. I've done a rough mock up which will be posted and then I'll post a completed picture. When its completed, I will have a place to play all of my games.  The systems I have chosen for the gaming rig are, a Sears "heavy sixer" telegames console, an SNES, a gamecube, a Wii, a Playstation 2, a Dreamcast, an Original Xbox, an Xbox360, and an Xbox one. I will also have a pc for running MAME and Daphne (for Laser disc based games like Space Ace and Dragons Lair). My final toy, which may take a while to completely build, will be a Raspberry Pi 2 running Retropie. The plan is to install the Pi 2 board inside a broken sega Genesis Console case, so it doesn't stand out among all these consoles. I plan to take my time and may even document it for this site.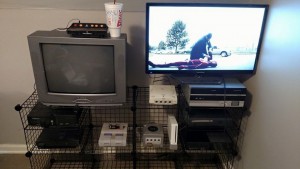 I need to clarify one thing, I'm a gamer. I enjoy playing all types of games. I would never label myself a collector, though If I have games or cases I would try and make sure I have them displayed nicely. I will also not hesitate to play roms in an emulator, or burned games on a console. I won't and haven't gone through the trouble of modding the xbox 360 or the Xbox one. But all of my 90's and early 2000s consoles can and do play games Ive obtained off of sites. If I play a game that I enjoy a lot, I would not hesitate in purchasing a real disc if I came across it at a swap meet or flea market. I don't condone pirating current software, but I do recommend waiting and either buying it in 6 months after the price drops 30 bucks or purchasing it used. The reason I am kind of ok with downloading and burning ROMS and ISO's for the PS2s the Dreamcasts or Xboxes, is that this software is not being sold anymore and a lot of titles cannot be had for reasonable sums because of the collectors market causing the prices to run up. So If I want to play a game like Little Sampson, an emulator and a rom will give me a chance to experience it.  I don't have to spend $800 on ebay to get a copy to just play it. There are a lot of places for PC gamers to get games at a reasonable price, without having to resort to pirating software. I'm a huge fan of Steam and I have purchased a ton of titles from that service. It allowed me access, at thoroughly reasonable prices(especially during sales), to games I like to play on PC, both current and classic titles. Steam is an example of a service made for gamers, not collectors.
So by the time I'm done, This new gaming setup will allow me to play at least 90% of all console titles available. I will never have them all, but I will have the ability to play anything I find. I also still have my MAME Cabinet in my home office area at the back of the house for a real arcade experience. It just needs a bit of fine tuning to get be perfect. That will be a summer project. Finally, in the basement, the house will have a casual gaming/Karaoke lounge and dry bar.  This will be an ongoing project consisting of a professional karaoke setup running through a home amplifier and mixer rig. There will be an LCD mounted on a stand for the singers, a TV for people to sing along with, and wireless mics. I'll also have any console doubles I have, like the Gamecube, Telegames, Xbox and Xbox 360,  setup for play. So my house is gonna be a place where you can have a lot of fun. LOL.
I'm back in a writing frame of mind and once I get some playing in I'm gonna toss a nice review up. Glad to be back and have my gaming fire all ready and blazing.
Themagamer