Quick Overview of the Kindle Fire HD 6 inch from Amazon.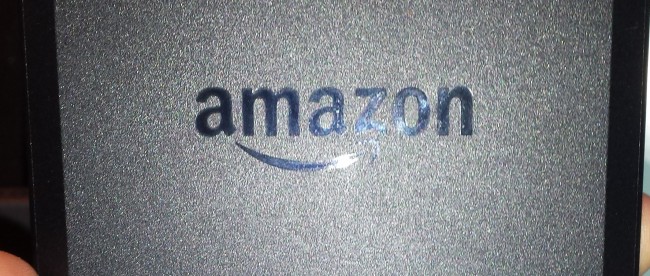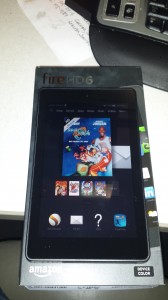 Hey Its my official first post for my new site!! Anyone who knows me knows I'm all about Tablets and Handhelds. For years, I've purchased different kinds of portables, handhelds, netbooks and pocket PCs, in attempt to find the perfect all in one device. Currently I owned tablets in sizes from 10.1 inches down to my 5.7 inch Note 3 "phablet". About a month ago, while pursuing my favorite tech site, I saw that Amazon was releasing a new 6 inch form factor for their Kindle Fire HD tablet family.
I received my new Fire Tablet 2 days after it was officially available on Amazon (thx Prime). It arrived in the standard black over black Kindle retail boxes. They gave a choice of 5 colors for the back of it, but I went with the boring black. I figured I could go crazy with the case/cover.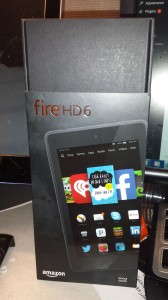 The only issue I had with the almost seamless transaction with Amazon came from trying to find a case. They had some available which I considered to expensive for the type and price point of this tablet. They were way too expensive in my opinion. The Amazon cases started at 29 dollars up to 39 bucks. A 40 dollar case for a 100 dollar device… No thanks. I ended up purchasing a case from Fintie in purple for $10.98 shipped. It was coming from them and wasn't available until almost a week after I received my Fire HD, but it was worth waiting for .
Here is a quick rundown on My device's specifications:
DISPLAY
Touchscreen

Multi-Touch

Features

Corning Gorilla glass
PROCESSOR
Processor Clock Speed

1.5 GHz

Number of Cores

Quad-Core
MEMORY
Storage

16 GB

Total User Available Memory

11.6 GB
COMMUNICATIONS
Wireless Connectivity

802.11b/g/n

Security Protocols & Features

WPA

Bluetooth Profiles

Advanced Audio Distribution Profile (A2DP)
CAMERA
Rear-facing Camera

2 Megapixel

HD Video Recording

1080p

Front-facing Camera

VGA
MULTIMEDIA
Supported Digital Video Formats

M4V

Audio

Microphone , speaker

Supported Digital Audio Formats

MP3
SOFTWARE
Preloaded Software

OfficeSuite Pro 7
EXPANSION AND CONNECTIVITY
Interfaces

SlimPort (Micro-USB)
Headphones
BATTERY
Run Time

8 sec

Recharge Time

6 hour(s)
MISCELLANEOUS
Color

black

Sensors

accelerometer

Features

Front camera
DIMENSIONS & WEIGHT
Width

4.1 in

Depth

0.4 in

Height

6.7 in

Weight

10.2 oz
GENERAL
I ended up going with the 16 gig over the 8 gig for a whopping 20 dollar up charge, but I think double the storage for 20 bucks isn't a bad deal.  So here is my quick and dirty opinion on the Kindle. Its a well made well put together tablet. It never feels laggy due to any hardware compromises, but the Software has a restricted feel, due to the Amazon Fire OS. I am avid Android user and have worked with everything from 2.2 up to version 4.4 Kit Kat. The Kindle Fire OS is based off of Android 4.4, but due to being limited to the Amazon ecosystem,Its just feels clunkier. I have to think too much to do simple tasks like opening a webpage. or doing a web search. Any searches default to stores within Amazon, you have to tap one time too many to get a web result. When I needed to look something up, it was easier for me to grab my Note 3.
The one big thing I like is the form factor. I didn't think 6 inches would be a huge step up from my Note 3's 5.7 inch. but the extra .3 plus, a decent bezel -good for holding, and a reasonably high PPI of 252 makes it a joy to read from. You should see its size as analogous to a paperback. The 7 inch tablet always felt  a bit too large to take with you everywhere. It was too easy to put down and leave behind (I've done it before). The 6 inch fits into my back pocket nicely, but I'm a bigger guy, so your mileage may vary.  For a woman, the 6 inch fits any purse that can handle a paperback book, and should be easier to deal with compared to the larger 7 inch tablets.
GAMING!!!
My page is all about being a middle aged gamer, and up to this point I haven't spoken about the Kindle Fire HD 6's Gaming prowess. Here is skinny on it, Its pretty darn nice. Amazon's app page has a lot of games available. The Super capable quad-core processor has no problem with any of the games I've tried,, from Beach Buggy Racing to Angry birds to Pinball simulators, this thing runs as smooth as glass. To be able to pull this out of my pocket and play on a 6 inch screen is really nicefor my older eyes. It also pairs well with bluetooth joypads and lets you use them on a variety of games. But, I can live with on screen controls and I'll save gamepads for My Xboxes and PCs. Just know that this isnt a low end tablet that has issues doing graphics, this is a nice simple powerhouse.
I feel, in conclusion, that if  this was my only tablet, I wouldn't be as satisfied as a person with a full android tablet/phablet within arms reach would be. As a second tablet, used for reading, gaming and accessing the Amazon ecosystem, its just about perfect. I really feel the 6 inch will end up under the tree of a lot of people this Christmas at the 99 and 119 dollar price point.